Monteverde to Manuel Antonio 15 Feb 2007 by Mary Watson (Illustrated by Mary)
On the road from Puntarenas to Quepos, we stopped at a bridge over the Rio Tarcoles, which means 'Croco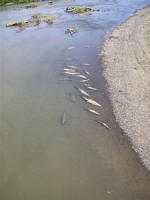 dile'. The river and the mud flats are wide at this point. We got out of the minibus and walked over the bridge to get a good view of the very large, mud-covered American crocodiles which lie on the banks or float in the river below. They seem to be waiting for unwary potential prey. These crocodiles now have protected status and their numbers are increasing after centuries of being hunted.
There are other bridges on this main road to Quepos in a state of total disrepair. We were all nervous as our minibus crossed these inadequate constructions and just hoped that there were no crocodiles lurking in the waters below waiting for unfortunate tourists unwise enough to trust rickety bridges. Crocks by DH
Not far from Tarcoles we passed the Parque Nacional Carara which is said to be the best area for bird-watching. The coast from Herradura to Parrita is being developed with hotels and condominiums so the environment must be under pressure. Between Monterey and Parrita, there is a long beach, the Playa Esterillos, which is famous for surfing. This stretch of coast is the 'surfing capital' of Costa Rica.
On either side of the road into Quepos, there are extensive plantations of Palm Oil trees which are monotonous to look at and seem to support no life. Ronnie, our escort, gave us the bad news that there was an hour's wait to cross the next bridge. He kept us going with cold drinks. Nick risked a very colourful ice cream from a roadside seller and suffered no ill effects!
Tulemar Bungalows 15-19 Feb 2007
We stayed on the co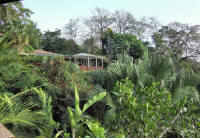 ast in a small development of individual bungalows and villas between Quepos and Manuel Antonio. The bungalows are octagonal in shape and are built into the hillside with lush tropical gardens and forest providing a private access to a beautiful beach where marriages take place on one or two days a week at sunset.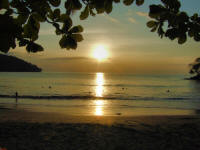 There was an all-round view from our bungalow over the coast north of Quepos and south toward Manuel Antonio and the National Park. We could look across the bay to the headland where Katie and David and Georgina
and Nick were staying in the Parador Hotel.
From our bungalow and the restaurant (on the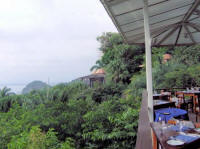 same level), we had good views of birds, squirrel monkeys and sloths. In one tree next to the restaurant, we spotted both a three-toed and a two-toed sloth, the latter sandy in colour and with longer hair. See below for sloths from the web
The maids in all the hotels produced amazing towel art
Mary and Peter's Bungalow from the restaurant
| | | |
| --- | --- | --- |
| | The Parador top left | Same view at sunset |
| Beach at Tulemar | Other end of beach at Tulemar | Beach at Manuel Antonio |
| Heliconia | Peter - a relaxed view MW | |
| | Hargreaves portrait opportunity DH | |
Parque Nacional Manuel Antonio
This is the smallest in Costa Rica's park system and is one of the most visited because of its accessibility. Our guide told us about plans to build facilities at Quepos to enable cruise boats to come in which will add to the pressure on Parque Nacional Manuel Antonio. The plans will bring no direct economic advantages as the additional tourists will not be spending money locally.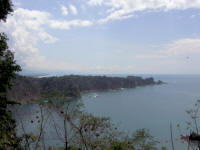 The forest in Manuel Antonio comes down to stunning beaches. Behind the beaches are mangrove swamps where we saw herons: a yellow-crowned night heron and a boat-billed heron. It was very humid and hot so our climb up to the Mir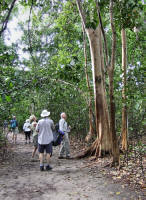 ador (1.3 kms) above Playa Escondido, along a muddy and slippery track, was 'challenging'. The views south towards Punta Serrudio made up for the effort.
Our guide (name?) introduced us to several of the trees in Manuel Antonio and explained their sometimes unique biosystem: the huge Maria cedar, the Trumpet tree which shows wet and dry periods of growth by the distance between rings clearly visible on the outside of the tree, and the Spikey tree which deters predators from climbing it with vicious spikes on the trunk. We were all given a small piece of an interesting tree which sheds its bark. There are species of trees that only exist in Manuel Antonio and it will be a conservation challenge to protect them for long enough to identify them.
The Machineel Tree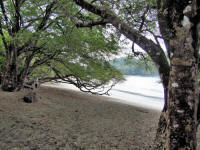 Along the edge of the forest, there are Machineel or Manzanillo trees, whose branches sweep low over the beaches and seem to offer shade and protection. But the sap and bark of this tree are toxic to humans and inflame the skin. The fruit is poisonous.
We witnessed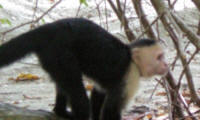 a 'smash-and-grab' raid by a group of capuchin monkeys that spotted unguarded bags left under a Manzanillo tree. The raid was quick and skilful and carried out before two park rangers could intervene. The spoils were picked over at the top of the tree. We were sure the monkeys knew they were safe in a tree that was toxic to humans!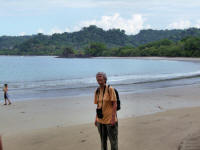 Also seen from the beaches: flocks of brown pelicans (Katie saw one diving); a willet – a large wading bird (a migrant) and a ringed kingfisher.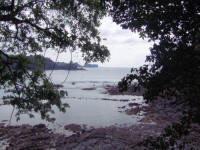 Watching the capuchins
Before we climbed to the Mirador, we crossed a promontory to Playa Escondido where our guide showed us an arrangement of rocks above the low-tide line. This was a pre-Colombian (i.e. pre-Christopher Colombus) turtle trap. As the tide went out, turtles were trapped in the circle of rocks.
Fincas Naturales : Butterfly Botanical Gardens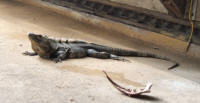 The restaurant Iguana at Tulemar taken by MW and CW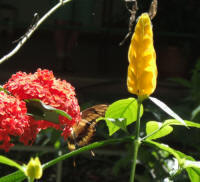 There is a private wildlife refuge not far from Tulemar, towards Manuel Antonio, which Peter and I visited on Sunday morning seeking respite from the sun and heat. It is a garden within a larger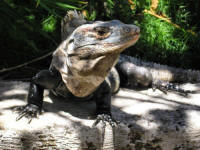 wildlife refuge, enclosed with netting, where butterflies are bred just as at La Paz but on a smaller scale. The garden is densely planted with flowers and visitors can sit in peace and watch the butterflies or saunter through the garden.
Giant Swallowtail Butterfly
The Iguana tried to steal Nick's Lunch DH
Outside this garden, and mercifully the others side of the netting, there was a pool of crocodiles. We watched a squirrel monkey with a tiny baby on its back cross a wire above the pool and climb a tall straight tree with no branches for safety in case of a slip.
Wildlife not seen previously on the tour: Brown pelicans, Magnificent Frigatebird, Willet, White-collared swifts, a Pair of Northern (Baltimore) orioles and a Roadside hawk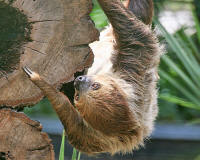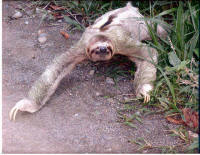 Some pictures from the web showing the differences between the two kinds of sloth.